Best Food for Guinea Pigs - GuineaDad Hay & Treats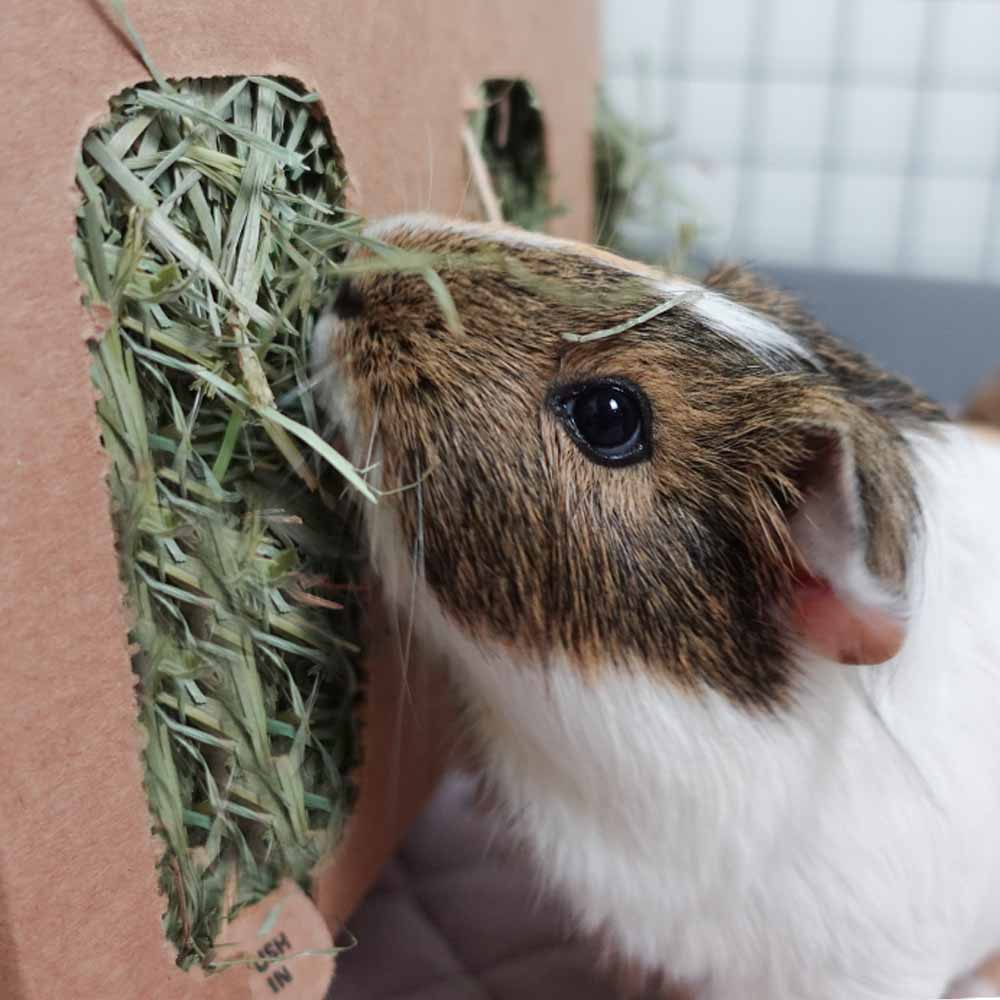 Why choose GuineaDad's Hay & Treats

Feeding your guinea pig the right food is essential to their health, quality of life, and longevity. At GuineaDad, we're all about giving guinea pig parents everything they need to help their piggies live healthy, fulfilling, and happy lives. Everything we produce comes from scientific research, industry expert suggestions and from the heart. Our line of healthy guinea pig food, treats and supplements is no different!

A diet that consists mainly of guinea pig hay is crucial to maintaining a healthy digestive tract, so your piggie's meals should always include a high standard of hay. We worked long and hard to grow the perfect hay that truly provides all those essential natural ingredients for your guinea pig to thrive. We believe that all guinea pig products should be developed specifically, holistically, and scientifically and that holds true especially for our guinea pig hay. Part of the reason healthy guinea pig food is so important is because, unlike us humans, it can be hard to tell when a piggy isn't doing well, so maintaining a nutritious diet is crucial to their overall health. We've gone the extra mile in developing a prestigious line of healthy guinea pig food called the Nourish Series, including hay, treats, and other supplements. We took the time to test for hay that was specific to guinea pigs because they have a different nutritional profile and different tastes than say rabbits and other small animals. Our goal was to individualize the type of hay we curated for guinea pigs in order to finally create a product in the industry worth supporting. We promise your guinea pigs will find the GuineaDad Nourish Series of healthy guinea pig food, treats and supplements delicious and won't ever want any other brand. They will love it – ours did!

Every product line of GuineaDad Hay (Timothy, Orchard and more in future) go through an extremely meticulous filtration process to remove debris and dirt including the ones that are not visible to naked eye in our top-of-the-line facility. Just like any products we create, our hay also has guinea pig health as our priority. GuineaDad Hay packaging, which doubles as guinea pig feeder, also represents our level of care. As many of you realize daily, moving hay from the packaging to the cage creates unnecessary dust, which are harmful for guinea pigs' sensitive respiratory system. Our product removes that entire step to ensure the healthiest environment for guinea pigs. GuineaDad hay box also provides mental stimulation by adding extra fun during foraging – GuineaDad Hay's chewable box encourages healthy chewing behavior, and you will often find many piggies explore different openings on the packaging. GuineaDad's guinea pig hay feeder system not only helps guinea pigs, but also saves waste and revolutionizes how products would be shipped. Simply remove the perforations and clip from the cardboard box, and you have a fun feeder that essentially gives you two products in one, while saving the planet. Order yours today to not only try our delicious natural hay, but also be included in the pioneering revolution of utilizing all pieces of a shipped product to the fullest.

While we were developing our healthy guinea pig food, we just had to make our own guinea pig treats and guinea pig pea flake chips too! Our Healthy Pea Flakes will be one of the yummiest treats your guinea pig will ever have, and if they're anything like our three little princesses, they'll always be begging for more. These guinea pig treats and supplements are created with the same specific, holistic, and scientific approach as our hay. These delicious treats also go through meticulous filtration process without preservatives or unnecessary artificial ingredients to replicate what guinea pigs would eat in the wild. The product also goes through an infrared process to tripe ensure that no harmful substance is included in the product. The same goes for our organic Herbal Supplements, which will provide your guinea pigs with the essential vitamins and nutrients they need to maintain great health. All our treats and supplements are not only human-grade, but more selective than that to ensure guinea pigs' healthy digestive systems.

Once you order products from our GuineaDad Nourish Series of food and supplements, you'll never want to order from anywhere else again. That's because our brand initiative includes doing everything we possibly can to curate top-of-the-line piggie products to give them the life they deserve. They are part of your family, so nourish them with the top-rated, whole hearted products available.  Shop our healthy guinea pig food and fun new dual purpose hay feeder packaging today and save big!