Regular price
Sale price
$12.95 USD
Unit price
per
Sale
Sold out
Free domestic (USA) shipping for all orders above $40
Spoil your piggy with this Crunchy Condo 3-pack of guinea pig hideys! This guinea pig hidey is a cage essential for a variety of reasons. It is great for piggies to chew on and completely safe for their consumption.
Share
View full details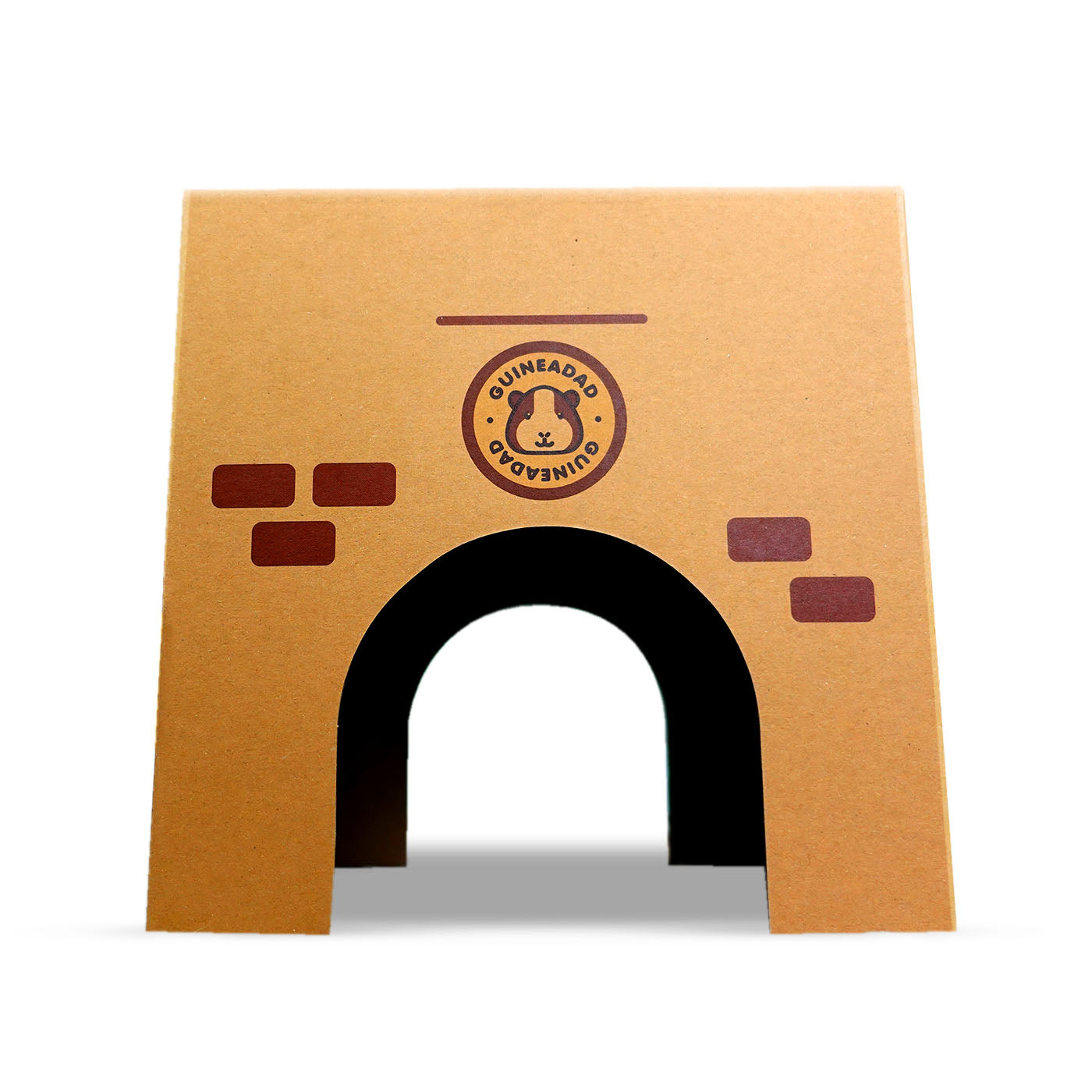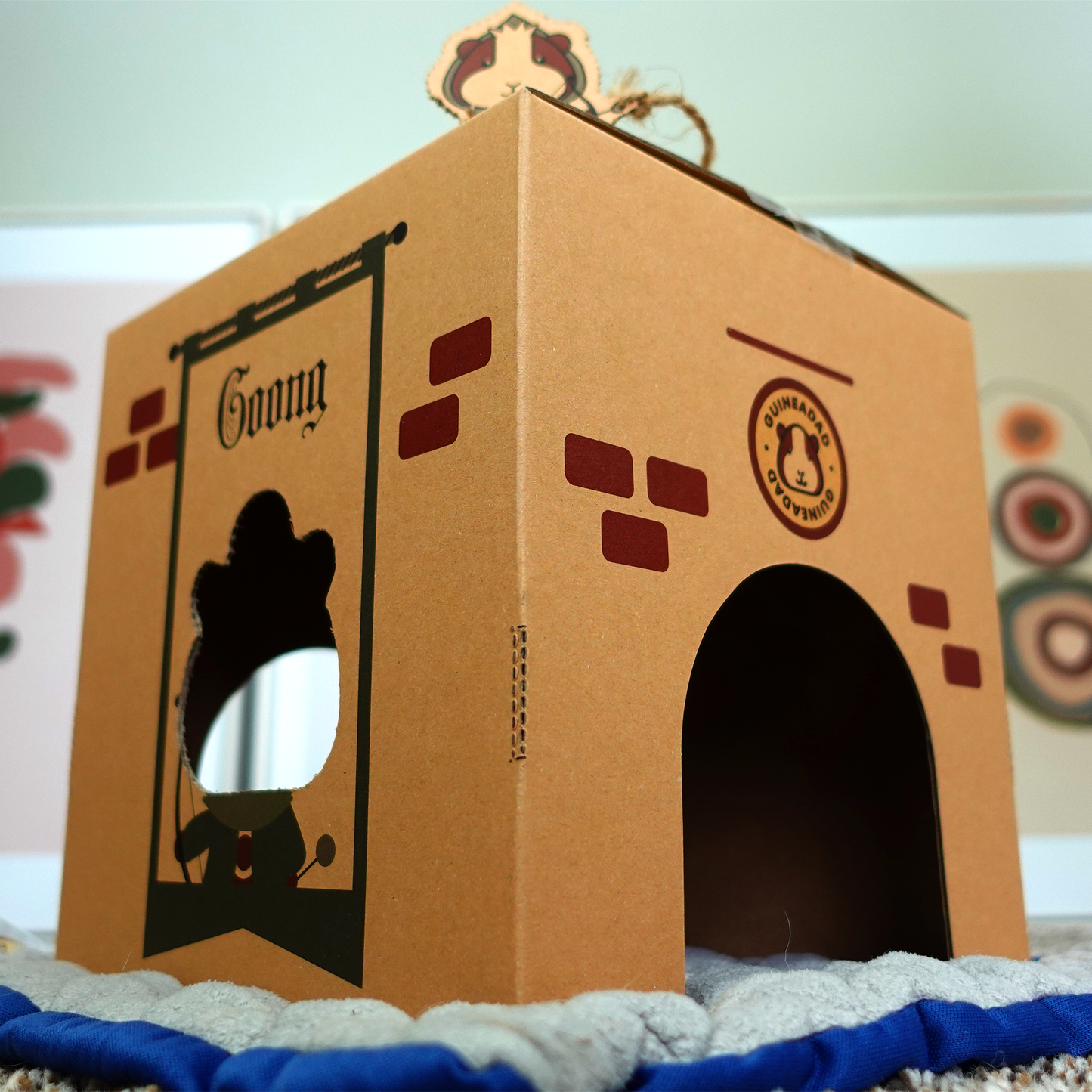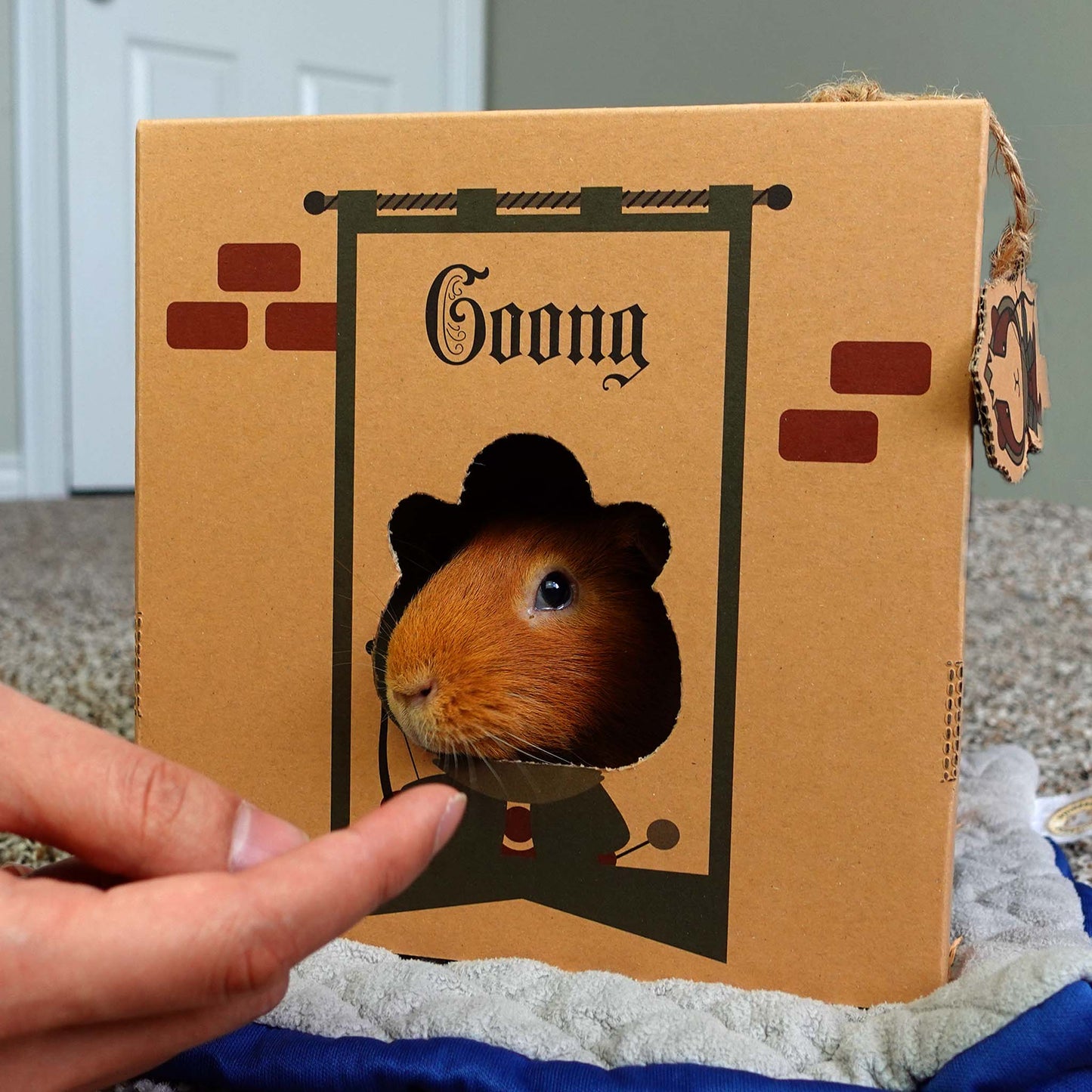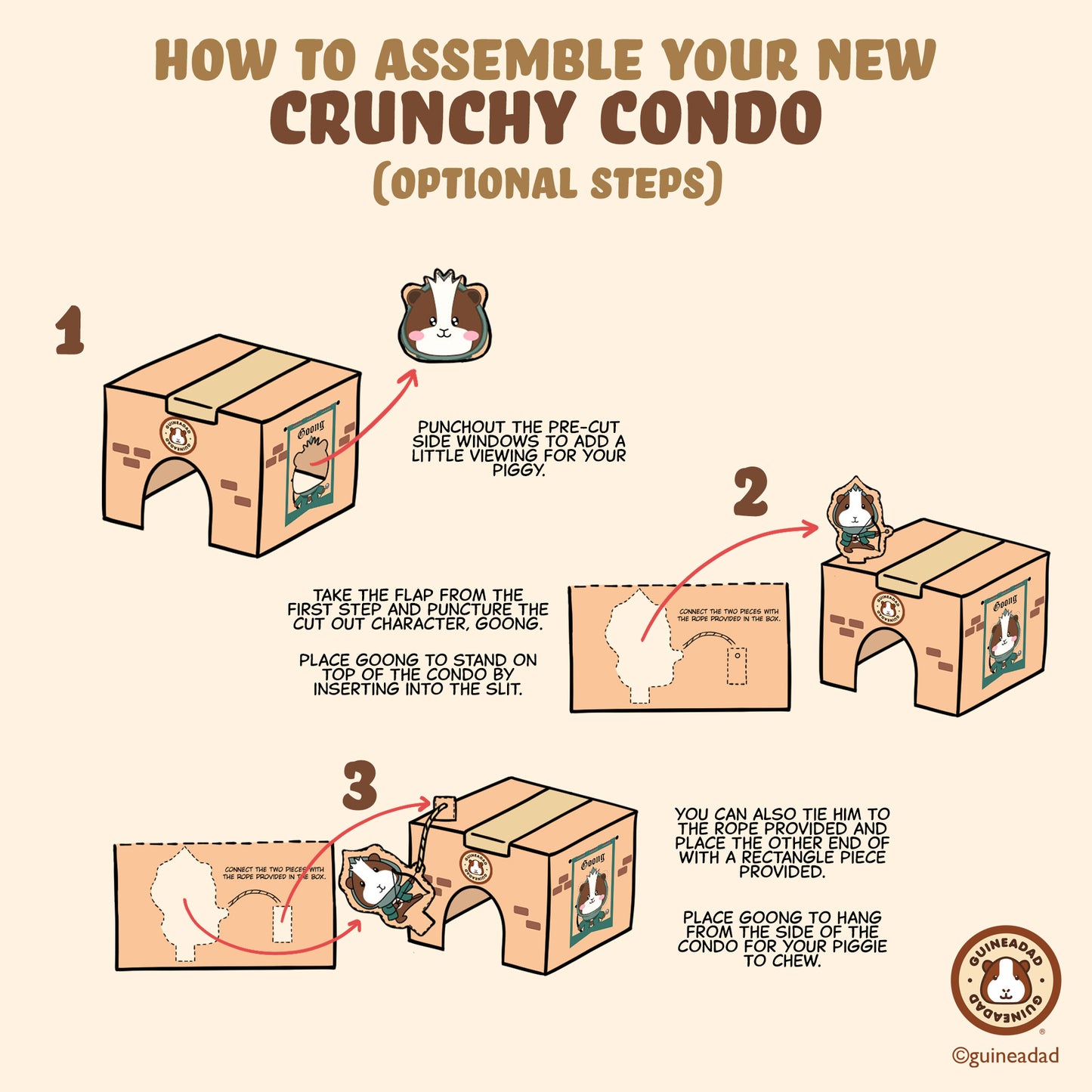 Product features
Product features

Dimensions:
~7.8" x 7.5" x 7.5"

Make Guinea Pigs Feel Safe: 
Guinea pigs are very cautious animals and are prone to hiding due to their natural instincts. A guinea pig home is an essential to a guinea pig's habitat. Our GuineaDad Crunchy Condo hidey offers them the safe comfort they need to live a happy and healthy lifestyle. 

Supports Dental Health: 
GuineaDad Crunchy Condo can also be used as a hideout and toy for your guinea pigs to gnaw on to help promote healthy and normal dental wear. Dental health is an important element to be weary of when caring for guinea pigs. That's why we designed a reusable, recyclable, and non-toxic cardboard on all our hidey products so they are safe for guinea pigs to ingest. It's a guinea pig cardboard house that's edible!

Fun Design: 
GuineaDad Crunchy Condos also include fun designs featuring our GuineaGang Character, Goong, who is the cliff-climber and herb picker of the group. The clever design of the guinea pig cardboard houses also includes the crowd favorite perforations along Goong so you can create a fun little photo shoot spot for your piggy! In addition, the short tope feature of this top-selling guinea pig hidey allows for yet another cute, adventurous aspect for your fur babies to play with. 

Everything Goes Together: 
Connect your Crunchy Condo with any of our Crunchy Series, like the Crunchy Tunnel or Crunchy Castle, to create the best compound home and hidey experience for your guinea pig. All of our award-winning hideys and homes for guinea pigs allow you to create a full, luxurious complex for your prince or princess, further sharing your undeniable love for them! Try them all today!
Shipping fees, estimated delivery times, and import tax

Domestic (USA):
Free 2-5 business day shipping for all orders over $40.
($4.95 shipping for all orders under $40)

Canada:
Free shipping on orders over $100.
($15 shipping for all orders under $100)

International Shipping:
Please select your country at checkout to see shipping rates.


Click here

 to determine your country's shipping cost, estimated shipping time, and import tax rates.
Returns & refunds

Refunds are available for unwashed and unused products. Please be sure to include all components (liner, crunchy condo, etc.), using the same shipping box that the product arrived in (or any other USPS-approved packaging). 

If you want to return an item, please contact us within 14 days of delivery and ship the item back within 30 days of delivery.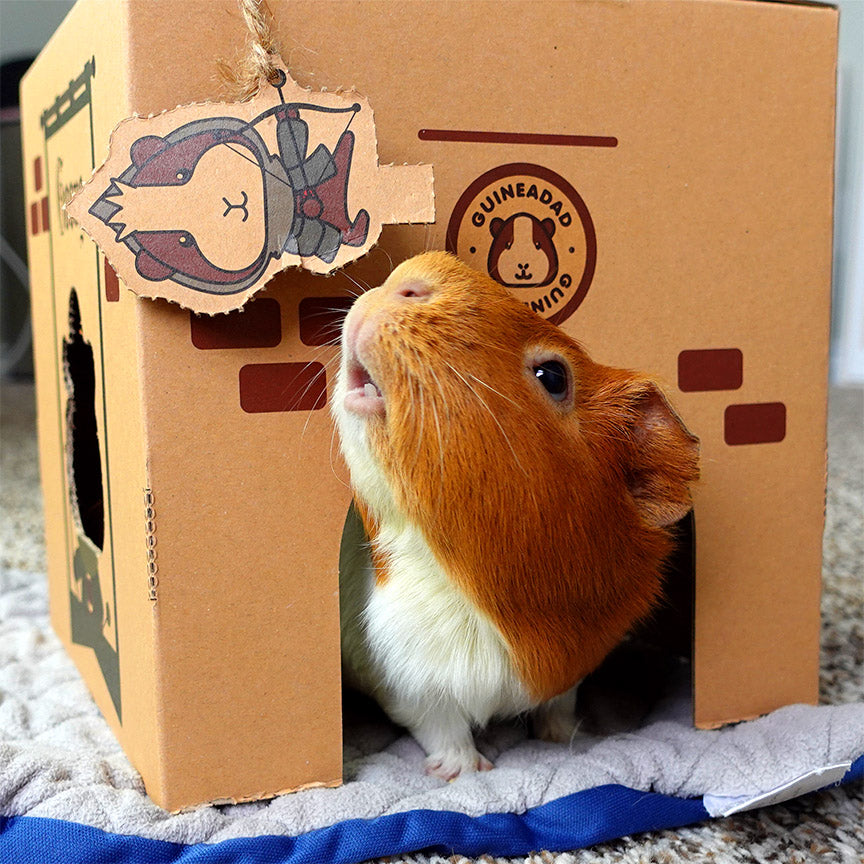 Healthy Hidey!
This guinea pig hidey is a cage essential for a variety of reasons. It's great for piggies to chew on and completely safe for their consumption. In other words, it is made with non-toxic glue, food touch safe ink, and reusable, recyclable, virgin paper. Piggies need to gnaw on things constantly to maintain their dental health, so this hidey provides the perfect source of chewing for them. It also helps your piggy indulge in their natural tendency to hide, providing the safe and comfy feeling they need to be happy.
Fun Design!
The GuineaDad Crunchy Condo is created with a fun design for your piggies to enjoy. There are two openings that allows your piggies to play through. Having two openings in hideys is important so piggies can avoid conflict when wanting to use the same hidey. We also include perforations that make a fun activity for you and your piggies to share. There are also two big perforations along the side of the Crunchy Condo that allow you to capture the perfect piggy selfie.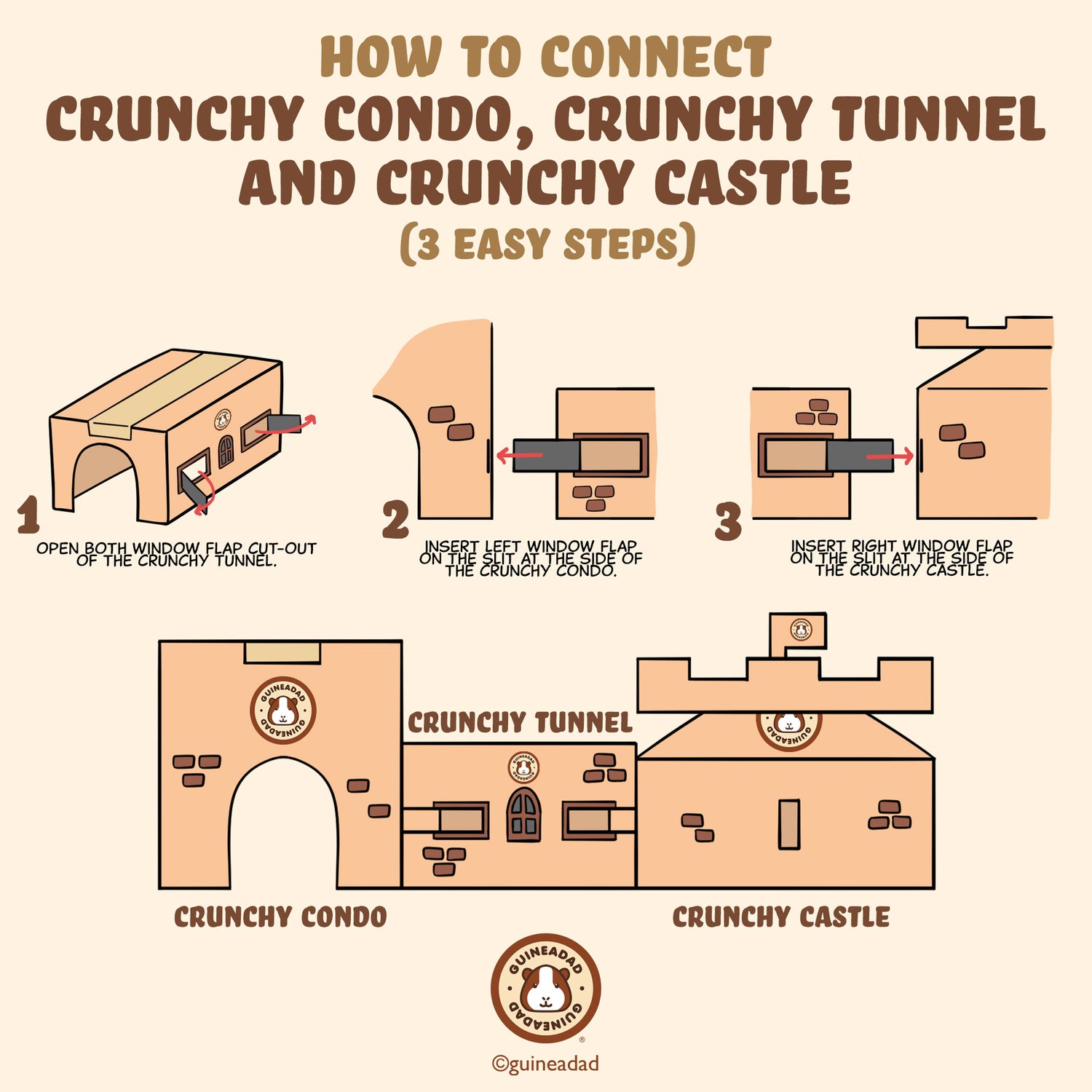 Not sure what you're looking for?
Head over to our forum to get answers to any questions you might have about our products or guinea pig care.