Regular price
Sale price
$29.95 USD
Unit price
per
Sale
Sold out
Free domestic (USA) shipping for all orders above $40
The Perfect Hidey for Guinea Pigs!
Let them hide in style in this safe to chew Wooden Guinea Pig Castle!
Customized engravings available for $5 more.

How to Customize

Customization Available!
Treat your guinea pig like royalty! Send us a photo and name of your guinea pig and we will engrave on their very own custom Castle.
How to order:
1. Choose the customized option and purchase.
2. Choose a photo of your guinea pig. When choosing a photo to send in, you must consider the following guidelines:

The photo must be clear photo, we cannot accept any that are blurry. (the higher resolution, the better)


The photo must show your guinea pig's face clearly.

3. Send the photo and name of your guinea pig, and order number via chat (icon on the bottom right of website) or email (contact@guineadad.com)We will send the confirmation number once your item gets shipped!
Share
View full details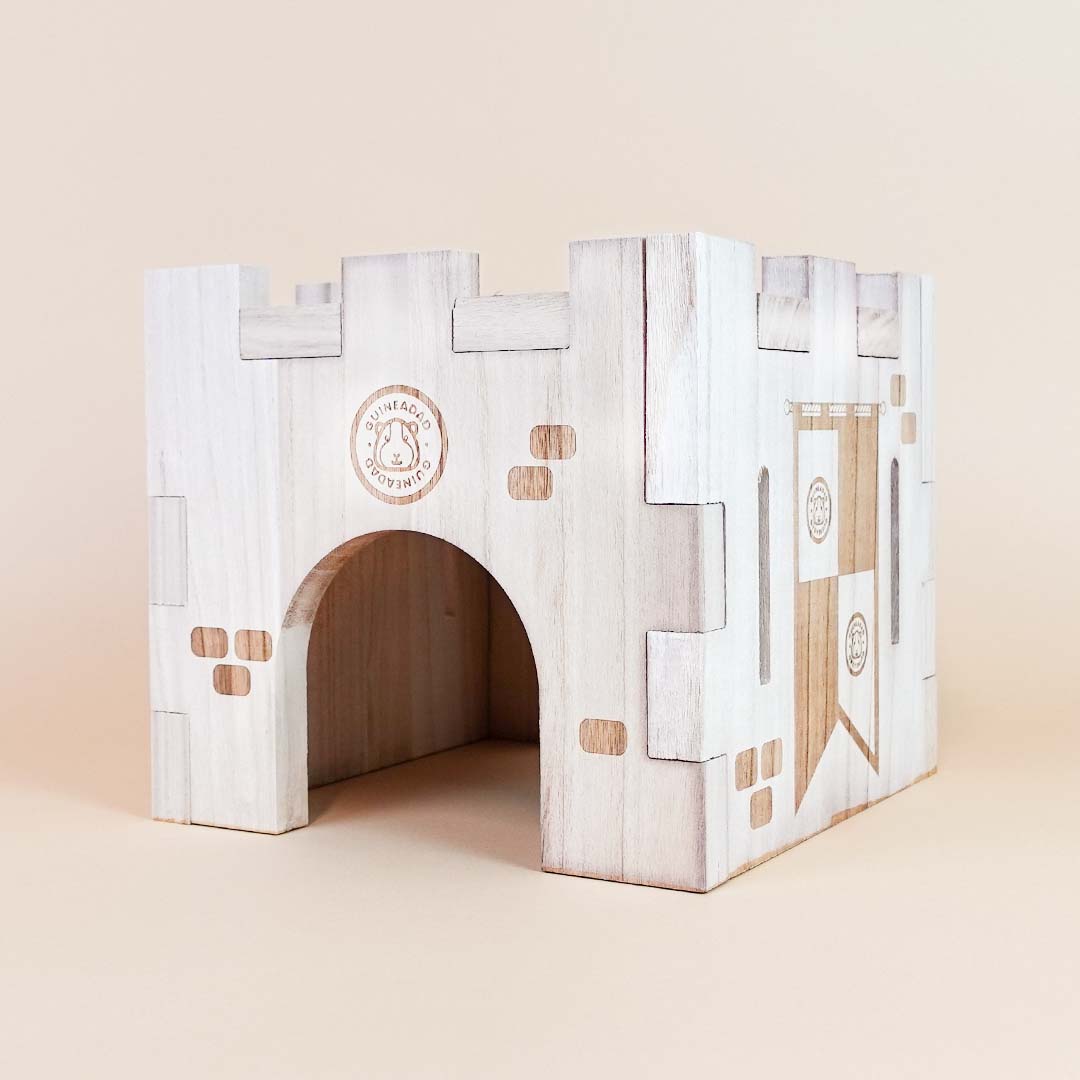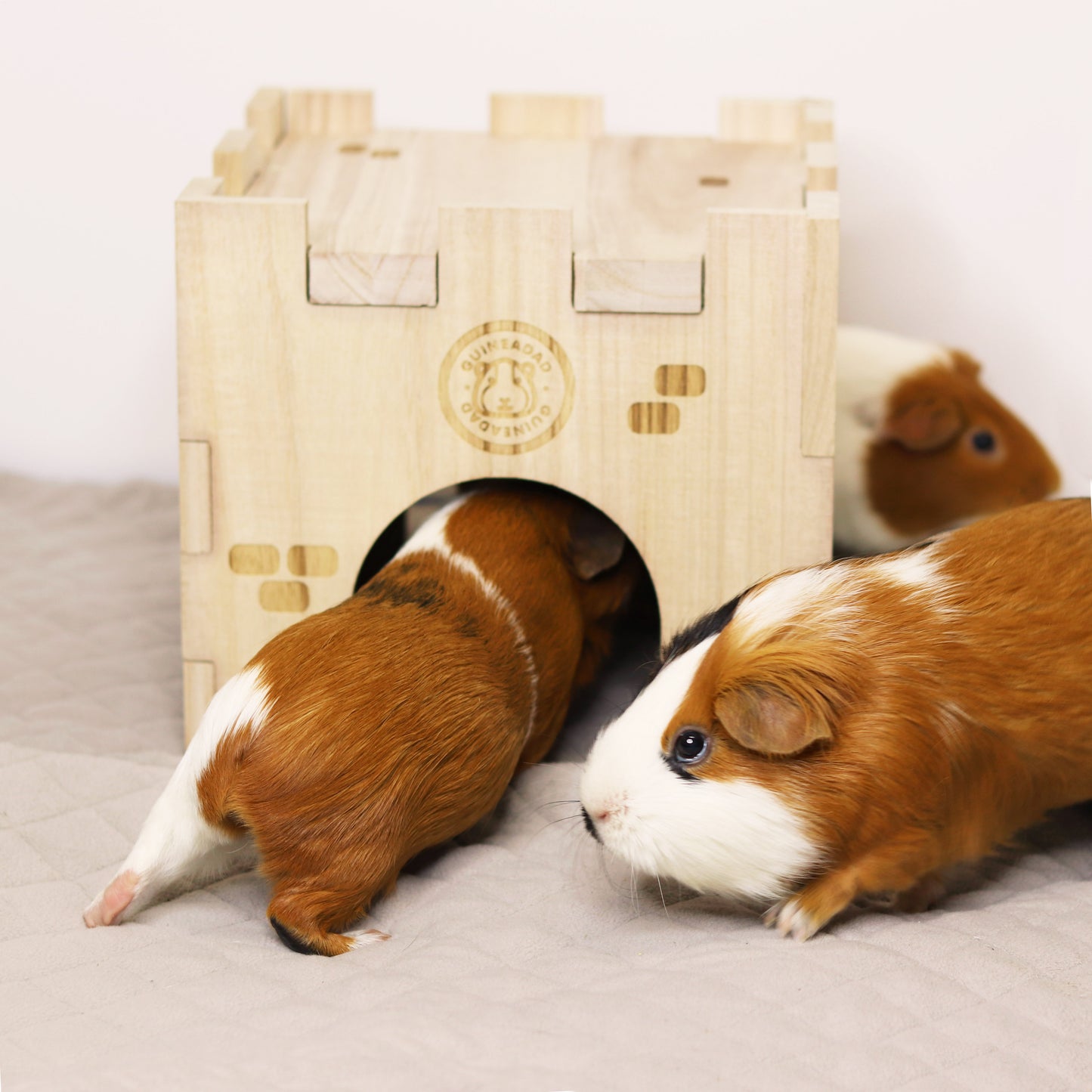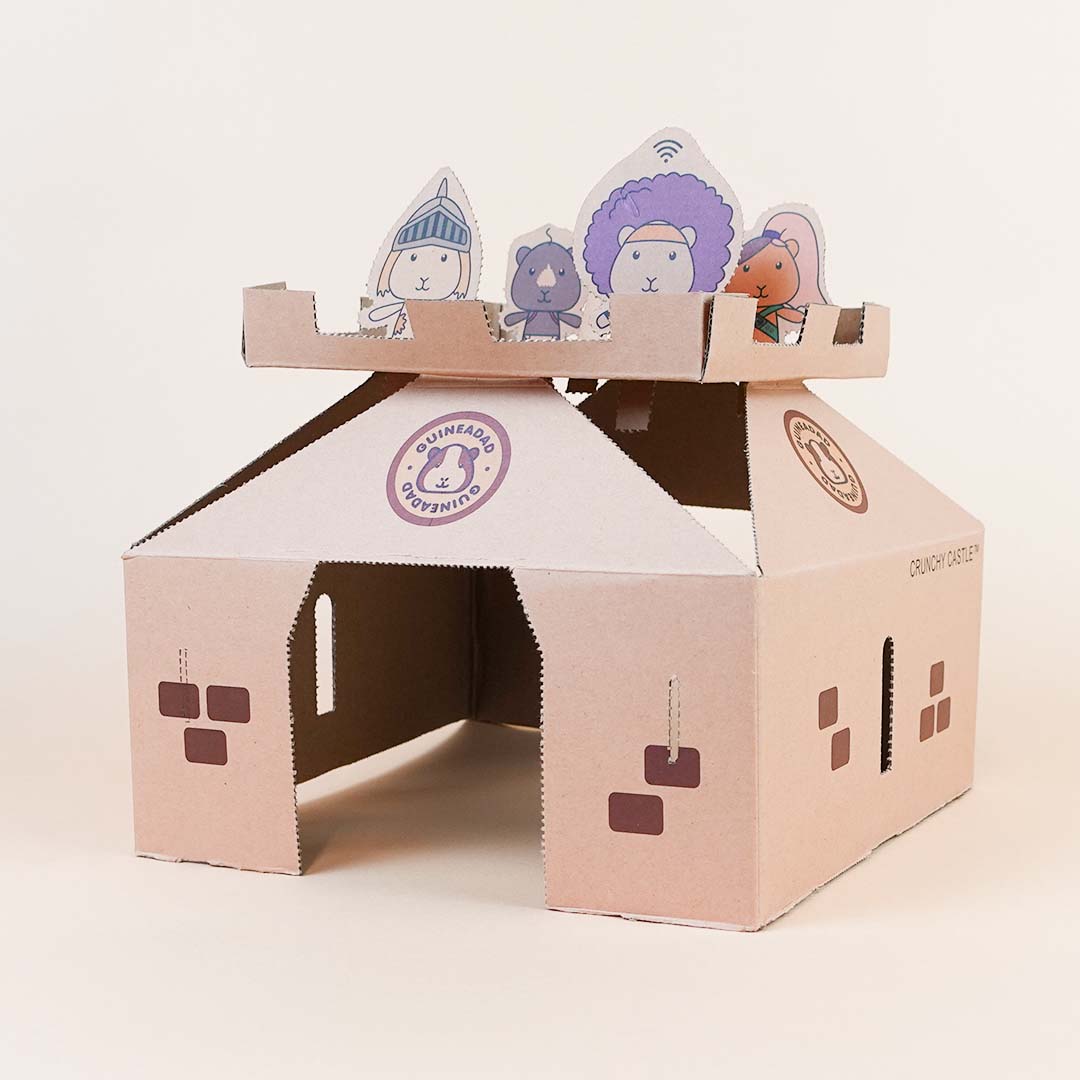 Product features
Product description

Product Dimension - ~ 9" x 9" x 9"

It's finally here, a majestic guinea pig hidey made with all natural, untreated wood so that piggies can hide and chew in peace.

Reduce Conflict Amongst Guinea Pigs - The walls of the Queen's castle are able to withstand even the bluntest force from male boars. When two guinea pigs try to enter a hidey together, one can escape through the back door and other through the side door, providing safe escape options to prevent altercations. The mere size of our Queen's Castle guinea pig hidey- radiates royalty with space allowing your piggies to play in their own area while keeping distance from brothers or sisters.

A Guinea Pig Hidey made with Design in Mind - What more is there to say, it's shaped like a castle with adorable prints and luxurious rooms, giving this guinea pig hideout it's obvious name. Even Interior Designers would want a piece of this house!

Helps to Keep Piggies' Teeth in Check - With this Queen's Castle hidey being made from a  natural and untreated wood material, you can feel secure your fur baby is safe playing around with its walls. Guinea pigs can chew until their heart's content due to the safe-natured hideout structure, helping to maintain their teeth at an optimal length without worry.

Bonus Hidey- Like always, GuineaDad tries his best to make sure we do our part in reducing waste. The packaging from this guinea pig castle, just like all our other packaging's, are able to be repurposed for another guinea pig house! That is right, you can reuse our shipping packages as another guinea pig hidey home or play place for free!
Shipping fee & import tax

Free domestic (USA) shipping for all orders above $40, Free shipping on Canada orders over $100 ($15 flat shipping fee for order amount of less than $100).

U.S. shipping takes 2-5 business days.

Standard International Shipping - Now Available Please Select your country at checkout to see shipping rates.

International Customers (UK, Canada, and some EU countries are NOT subject to import duty), please look into import tax duty set by your country. You may or may not be responsible to pay extra import tax, which will be wholly responsible by you. Please refer to the website link below to see if you are subject to import tax.

NOTE: The availability of stocks you're seeing on our store are the stocks in the U.S. therefore it does not necessarily reflect the stocks we have for the Canada, the U.K. and other countries.

Click here to read the full description.
Returns, refund policy, and payment methods

If your furry friend does not like the product, we are happy to issue you a store credit when reported within 14 days of receipt. However, please note customized or personalized product orders (i.e. personalized Queen's Castle) do not apply and are not refundable.

Please provide a video, showing their dissatisfaction with the product along with the description clearly illustrating the issue. For better assistance, please call us at (+1 (202) 972-4349 )

We reserve the right to limit refunds and replacements.

Credit Card, Debit Card, and Paypal are accepted methods of payment
Customized GuineaDad Wooden Castle Examples
Story of the castle
Whoever Shall Enter

The walls of the castle calls out to many, but only the one that is worthy may inherit the adventure that awaits within.

The Adventure Begins

Because Guinea Pigs deserve to be treated like royalty, what better home is suitable for such a noble creature. The Queen's Castle guinea pig hideout helps to immerse your piggy's call to the crown, allowing for his or her adventure to begin.

Someone Dare Approach

What seemed to be a quiet day soon takes a drastic turn. The Queen peers out the arrowslit and notices from a distance a strange humongous being quickly approaching her way. Quickly going through her options, the queen is unyielding as she accepts her fate. The time has come to protect her manor from whatever may be approaching.

Prove Her Worth

Fastening her armor and helmet, her pulse beats faster at the rhythm of her opponents' footsteps. She draws her bow to tackle the foreign nemesis. The sun begins to set, reducing her all so perfect aim. Given no choice she gathers her courage and heads beyond the gates of the unbreakable walls.

Out to the Battlefield, Into Your Arms

Out to the battle she goes! She musters up the courage going head on to receive some. Hmm maybe giants are not so bad after all...

Reward your furry friend

Get your guinea pigs some treats for being a brave and loyal companion.

Shop here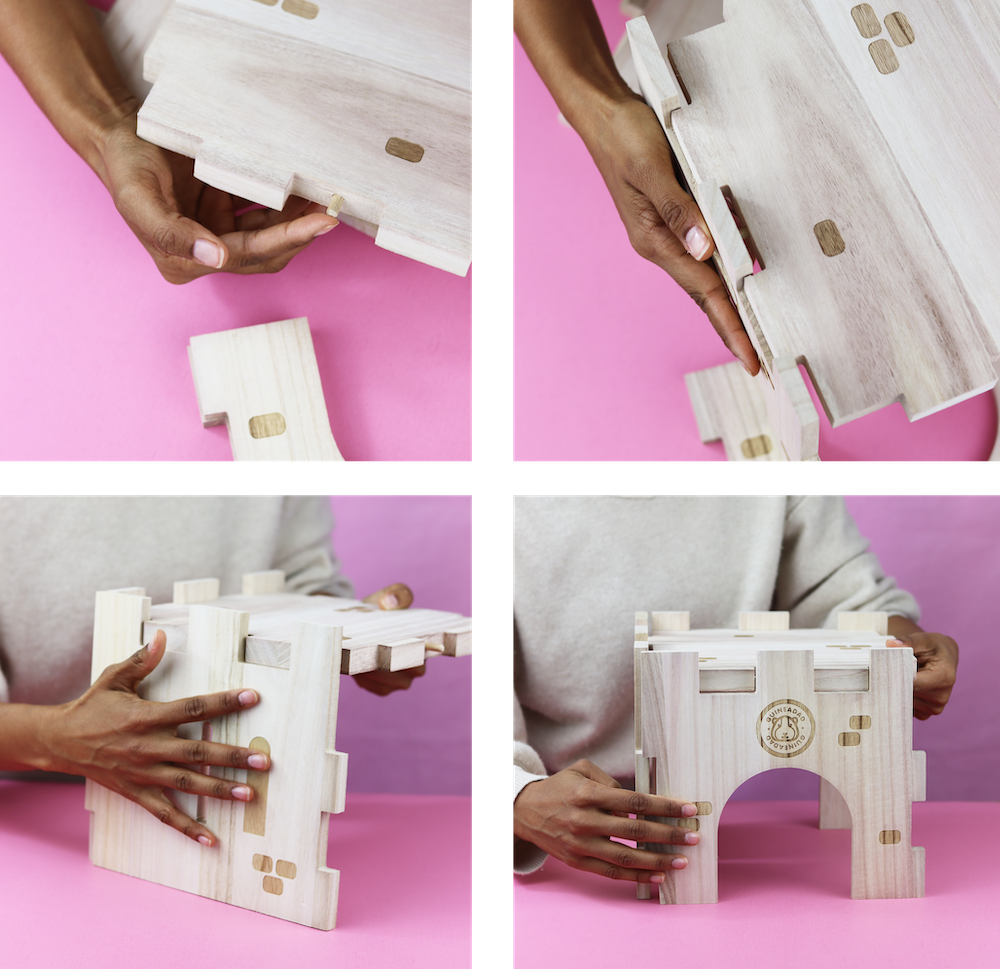 Safe to Chew
For a healthy guinea pig, we need to maintain their dental health and make sure their teeth do not become overgrown. That's why we designed The Queen's Castle to be made of wood that's both strong and safe to chew on.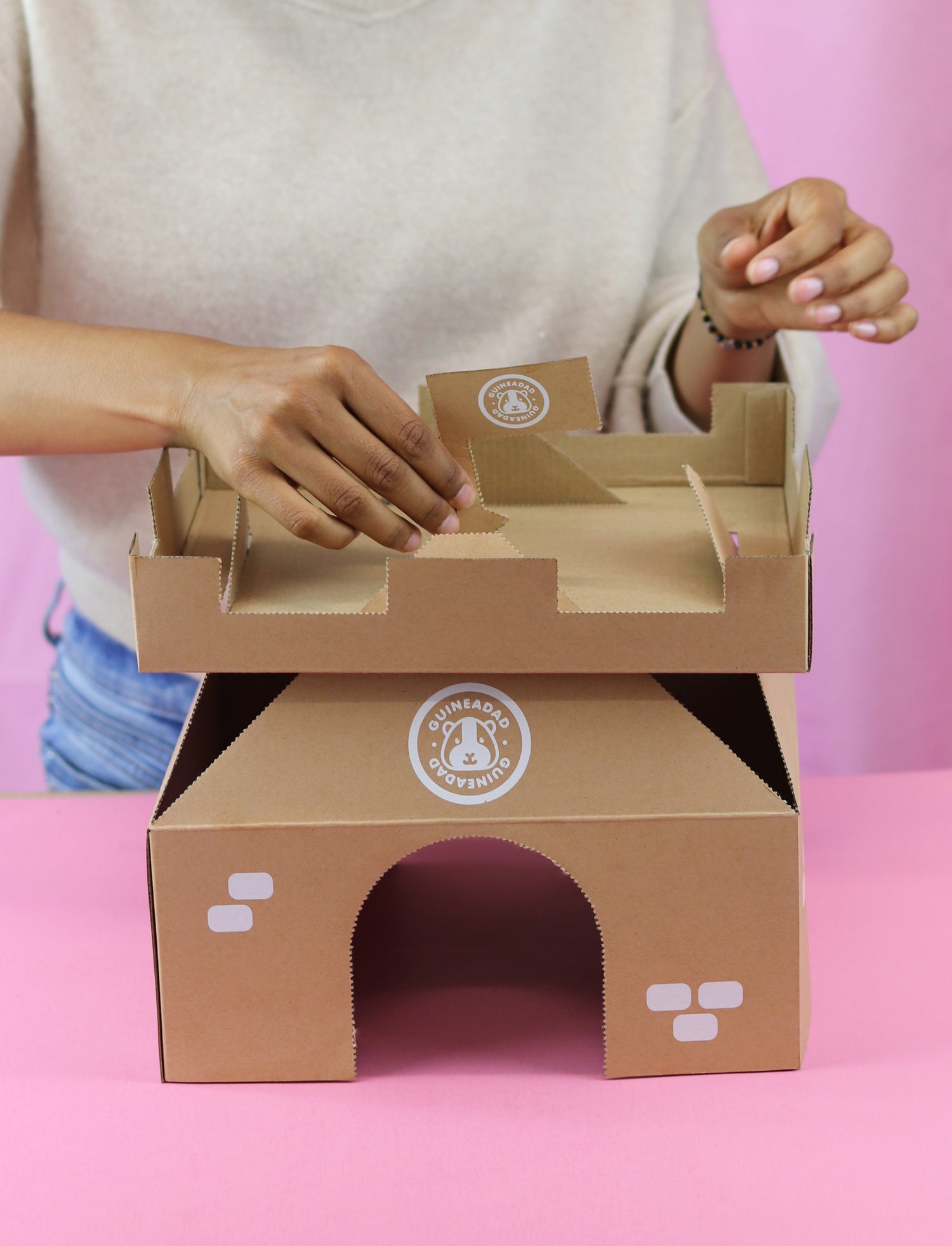 Innovative Packaging
Just like all other packaging done at GuineaDad, the Queen's Castle's box turns into a Crunchy Castle that your guinea pigs will love and enjoy.
Not sure what you're looking for?
Head over to our forum to get answers to any questions you might have about our products or guinea pig care.