Regular price
Sale price
$40.95 USD
Unit price
per
Sale
Sold out
Domestic orders over $40 ship free. Subscriptions ship free. We'll refund any fees due to a charging glitch within 5 days.
UPDATE (12/10): Out of Stock
Only Available in the U.S. and Canada
At BunnyDad, our priority is the health and well-being of bunnies everywhere. BunnyDad's Nourish Series provides the freshest, high-quality and fiber-rich Orchard hay for rabbits, to help keep all our bunnies feeling their best.
Share
View full details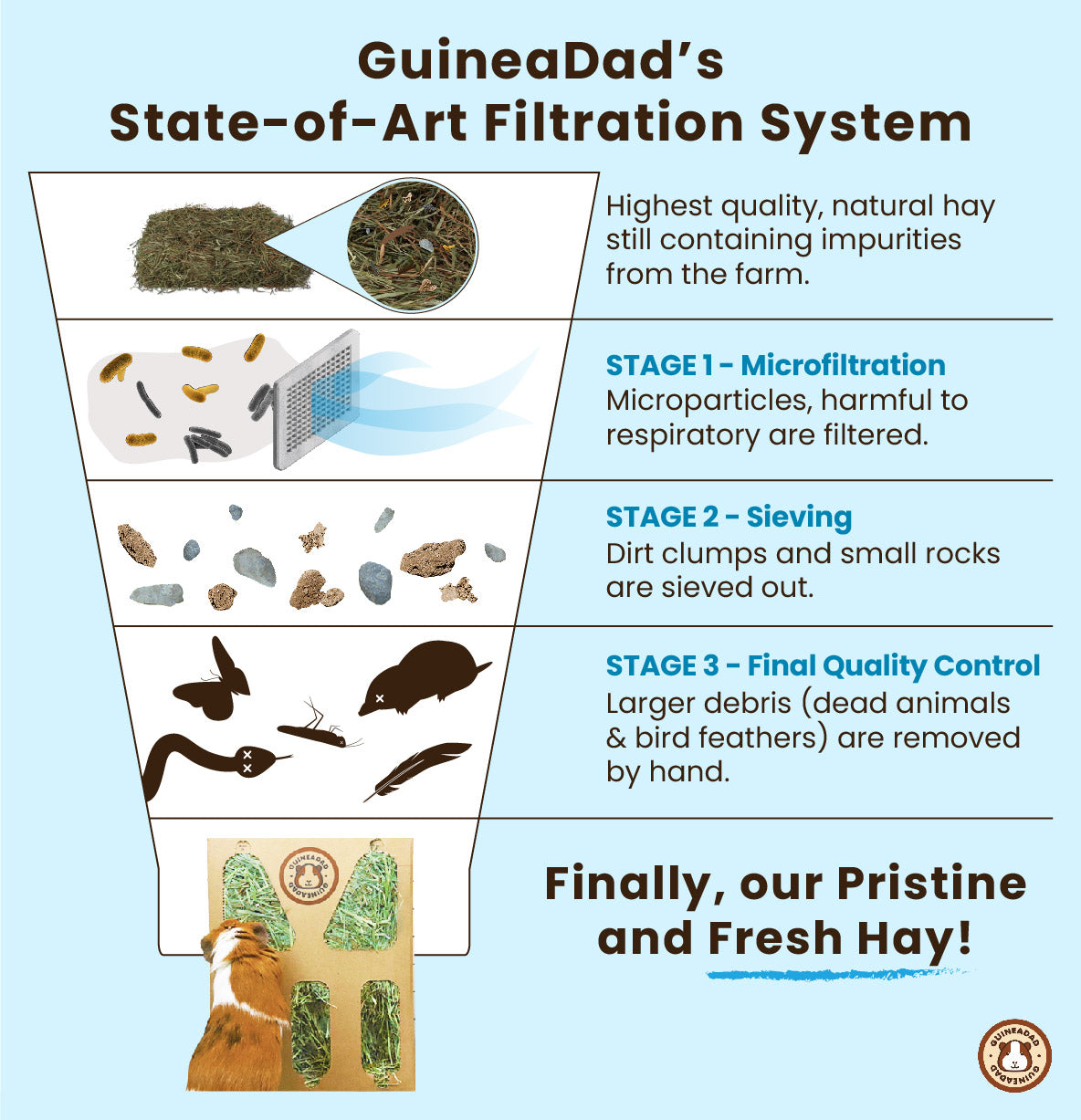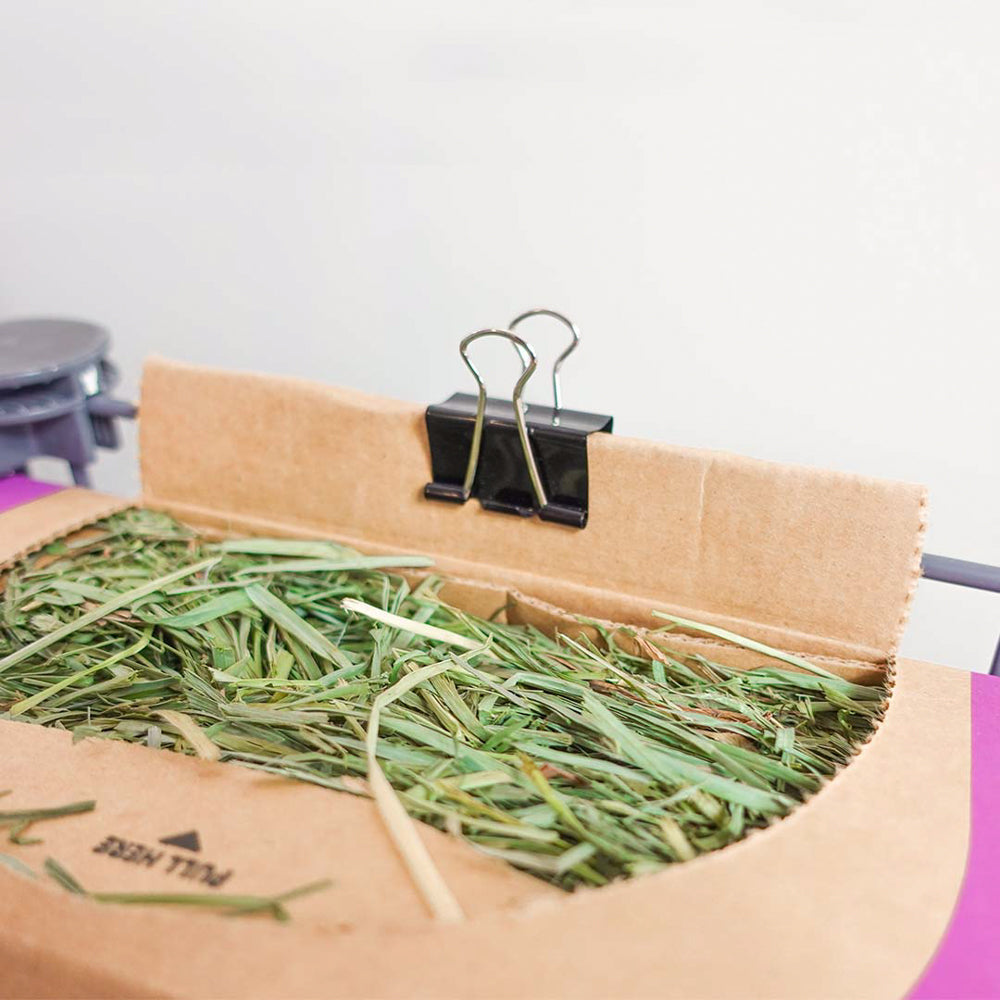 Collapsible content
Product features

What's Included:
3 Boxes of fresh, microfiltered Orchard hay & 1 binder clip

Dimensions:
13in x 10.5in x 4.5in
Net Weight: 9 lb (3 lbs x 3)

GuineaDad's goal is to make your life as a guinea pig parent easier, while making sure your piggies get all the nutrients they need to thrive.

GuineaDad's Nourish Series provides the freshest, healthiest, and most delicious Timothy hay and Orchard hay available! 

Healthy & Safe:
Unfiltered Orchard hay can bring rocks, dust, and other debris that can be harmful for guinea pigs to consume. Our GuineaDad Team runs every bit of our hay through a precisely calibrated dust filter, picking out any rocks, feathers, or other detritus it finds.

Our team then verifies this by sorting through every last bit by hand.

The GuineaDad Team puts a lot of time, effort, and love into ensuring that our cavies get the purest and highest-quality hay possible! 

Convenient Packaging:
Each GuineaDad Hay Box order (3 pack) provides your guinea pigs with 9lbs of tightly-packed premium hay in compact and easy-to-store boxes. No refilling, no mess, no hassle! The perforated holes on the packaging make it easy for your guinea pig to eat from, while keeping the hay securely in place. The design and packaging materials we use will help to keep your piggies' home cleaner, dust-free, and comfortable.

Did we mention that guinea pigs can chew on the packaging? Guinea pigs being able to chew and play as they eat provides mental stimulation, stress relief, dental maintenance, and enjoyment!

All of our packaging uses food-safe ink and non-toxic virgin paper, making it safe for consumption and safe for the environment.

When you're done with a package, just fold it up and throw it in the recycling. It's that simple.

Grown in USA

Click here for more information.

NOTE: Our hay can't be shipped to P.O boxes and it is only available in the contiguous United States and Canada. 
Timothy hay or Orchard hay | Which one should I choose?

Timothy hay and Orchard hay are the two best choices of hay for a guinea pig's diet.

Guinea pigs require an unlimited amount of hay as the main staple of their diet, providing them with fiber, protein, and a proper calcium to phosphorus ratio. Hay also plays a crucial role in maintaining good dental health.

Timothy Hay is widely available and provides the optimal balance of nutrition for guinea pigs' diets. The high fiber content found in Timothy hay helps maintain normal digestive health. 

Orchard hay is an excellent alternative for piggy parents with grass allergies that might be irritated by Timothy hay.

Orchard hay tends to be softer, sweeter, and has an aromatic fragrance which will entice even the pickiest of eaters.

The nutritional value of Orchard hay doesn't fall much behind that of Timothy hay, boasting high fiber content, a good Ca:Ph ratio, and only slightly less protein.

If you'd like to learn more about the different types of hay for guinea pigs, you can read more about it here!
How long will my order last?

Hay Bar = 5 Packs of hay (2.5lbs/pack)

Hay Box = 3 Packs of hay (3lbs/pack)

Average Duration of a Hay Bar Order (5-pack):

1 Guinea pig | 1 order = ~40-60 days (8 to 12 days per pack)

2 Guinea pigs | 1 order = ~25-40 days (5 to 8 days per pack)

3 Guinea pigs | 1 order = ~10-20 days (2 to 4 days per pack)

Average Duration of Hay Box Order (3-pack):

1 Guinea pig | 1 order = ~30-42 days (10 to 14 days per pack)

2 Guinea pigs | 1 order = ~18-27 days (6 to 9 days per pack)

3 Guinea pigs | 1 order = ~9-15 days (3 to 5 days per pack)

NOTE: Hay consumption can vary depending on a guinea pig's gender, size, breed, age, health, and individual metabolism.
Shipping fees, estimated delivery times, and import tax

Domestic (USA):
Free 2-5 business day shipping for all orders over $40.
($4.95 shipping for all orders under $40)

Canada:
Free shipping on orders over $100.
($15 shipping for all orders under $100)

NOTE: GuineaDad hay is only available in the contiguous United States and Canada, and can't be shipped to P.O. boxes.
Returns & refunds

Refunds are available for unopened products. Please be sure to include all components (liner, crunchy condo, etc.), using the same shipping box that the product arrived in (or any other USPS-approved packaging). 

If you want to return an item, please contact us within 14 days of delivery and ship the item back within 30 days of delivery.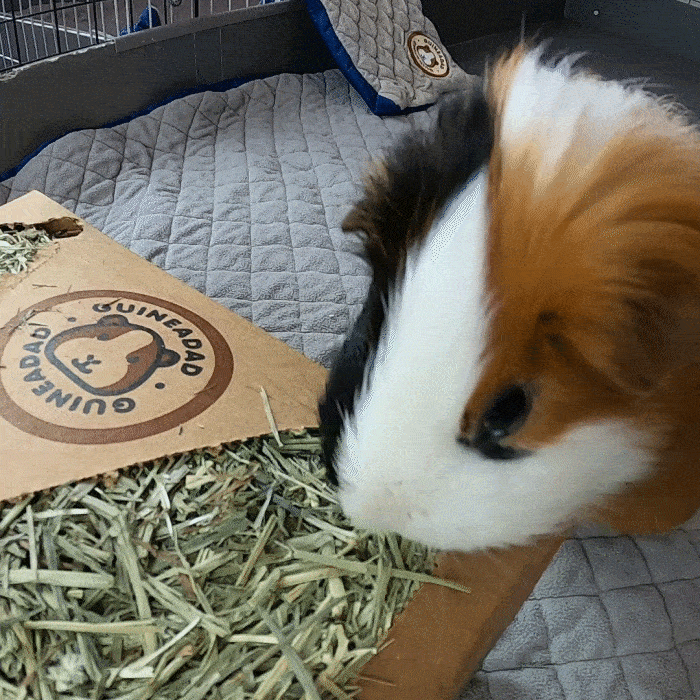 Why GuineaDad Hay?
For a happy and healthy guinea pig, hay is required at all times! Say goodbye to having to constantly refill your guinea pig's hay.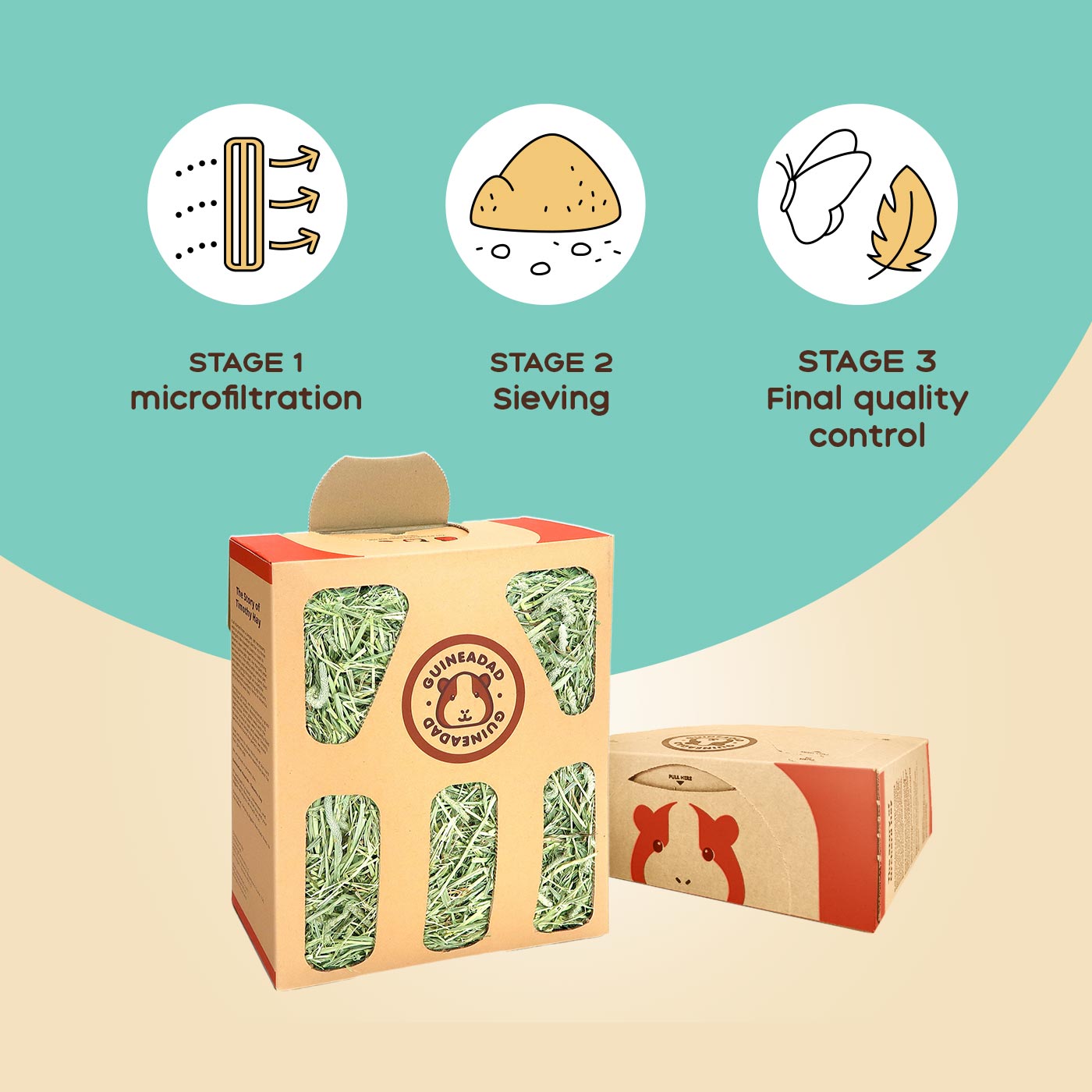 Advanced Microfiltration
With unfiltered hay comes the dangers of fine dust, tree branches, bird feathers and other impurities. Our elite and thorough filtration system makes sure to help you keep your guinea pigs not only happy and healthy, but safe.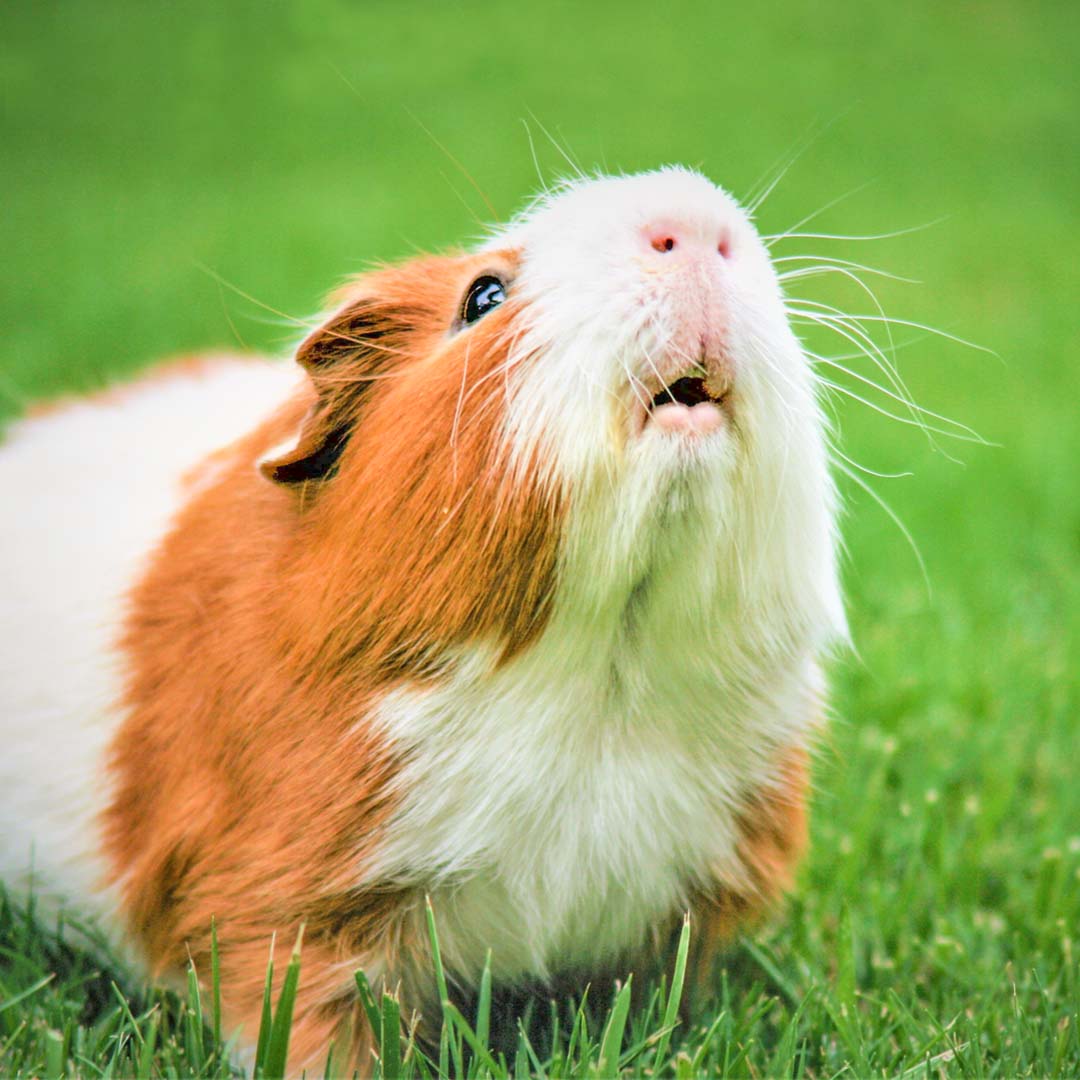 Safer for the Environment!
We've created thoughtful packaging that is less dependent on plastic and safer for your piggies and the world around them!
Convenient Packaging
GuineaDad's Hay Bar (5 pack) is more loosely packed and has softer, easier-to-dispose-of packaging, and conveniently attaches to guinea pigs' cages.

GuineaDad's Hay Box (3 pack) has more tightly packed hay and is more rigid, making it easy to stand up on its own and easy to store.
GuineaDad Hay Bar
GuineaDad Hay Box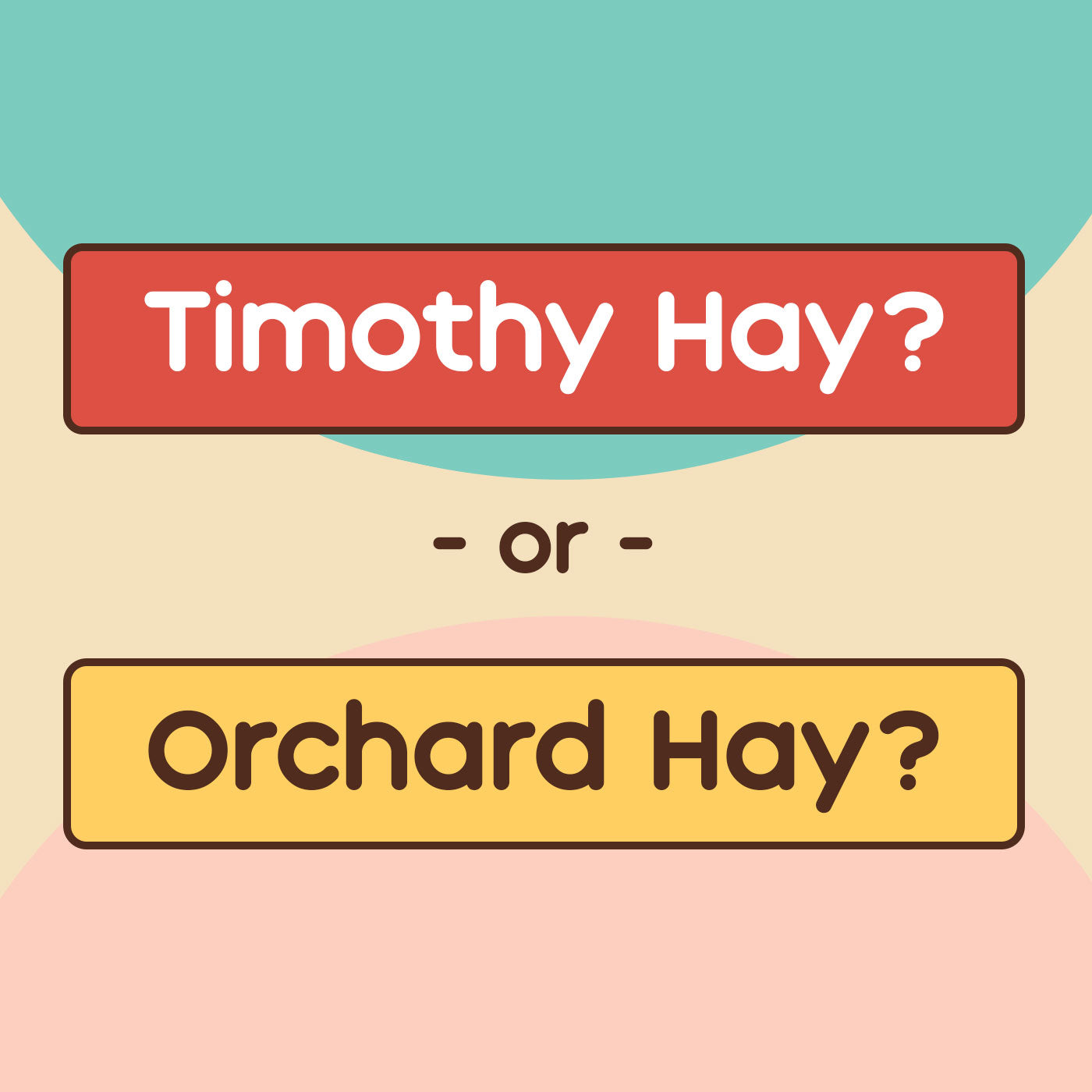 Timothy Hay or Orchard Hay?
Timothy hay for guinea pigs
The most popular choice among guinea parents! It not only smells and tastes yummy, but it has the perfect balance of fiber, fat, and protein.
Orchard hay for guinea pigs
A great substitute for piggy parents suffering from allergies. It consists of soft, but broader and sweeter leaves, and is slightly higher in calories and protein than Timothy hay.
Not sure what you're looking for?
Head over to our forum to get answers to any questions you might have about our products or guinea pig care.